The HBP Flagship was launched by the European Commission's Future and Emerging Technologies (FET) scheme in October 2013. The HBP has the following main objectives:
The timeline of the Project is split into multiple phases, each of which will be covered by a separate funding agreement, the Ramp-Up Phase (RUP, October 2013 to March 2016), the Specific Grant Agreement One (SGA1, April 2016–April 2018), the Specific Grant Agreement Two (SGA2, April 2018–April 2020), and the Specific Grant Agreement Three (SGA3, April 2020–April 2023) that is the current phase. 
28 January 2013: The European Commission has announced that the Human Brain Project (HBP) is the winner of the FET (Future and Emerging Technologies) call.
HBP faces an extraordinary challenge for modern sciences: to integrate available knowledge on the human brain in order to reconstitute its functioning in computo and in silico through advanced informatics platforms.
The goal is to understand brain functioning inner mechanisms, to find new cures for brain diseases, and to generate intelligent computers and robots.
More than 80 Research Centers participate at the Human Brain Project.
---
ITALIAN PARTNERS
Prof. Egidio D'Angelo is the Principal Investigator of the Pavia HBP-Unit.
The HBP-Italy participants  are the following (click on the map to enlarge):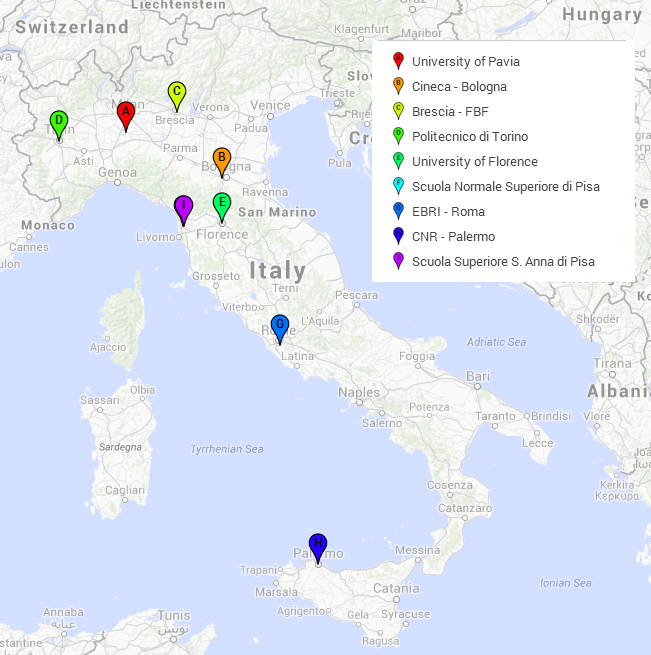 Egidio D'Angelo (University of Pavia)
Giovanni Erbacci (CINECA -Bologna)
Giovanni Frisoni (FBF – Brescia)
Enrico Macii (Politecnico di Torino)
Francesco Pavone (LENS, University of Florence)
Antonino Cattaneo (Scuola Normale Superiore di Pisa)
Enrico Cherubini (European Brain Research Institute Rita Levi-Montalcini Fondazione – EBRI – Roma)
Michele Migliore (Consiglio Nazionale delle Ricerche – Palermo)
Cecilia Laschi (Scuola Superiore di Studi Universitari e di Perfezionamento – Pisa)
---
COLLABORATIONS
The HBP voucher program and the Open Call Program brought to new collaborations:
---
NEWS & PRESS
The main themes of the Human Brain Project (HBP) have been illustrated in a special issue (n. 3 2013) of Functional Neurology published to coincide with the joint HBP – OTTORINO ROSSI AWARD meeting, 17-18 October 2013 (Pavia, Italy). 
---
Publications with HBP grant can be found in the public deliverables of HBP