Multi-Electrode Arrays (MEA) recordings
With this technique it is possible to record extracellular electrical activity simultaneously from up to 60 electrodes in cerebellar slices. This technique is important to understand the spatial organisation of synaptic plasticity and intrinsic signal processing.
Multi-Electrode Arrays (MEA) is being used
to study the spatial distribution of signals into the cerebellum granular layer
in acute slices. MEA consists of 60 conical platinum electrodes covered with glass and isolating material.
MEA is used either to record or to stimulate slices
, allowing the possibility of studying numerous aspects of the spatio-temporal dynamics of signals processing. The application of protocols to induce Long-term synaptic plasticity or the perfusion of specific receptors blockers allows to describe the spatial reconfiguration of signals, after which it is regulated by complex molecular mechanisms that cannot be analyzed by this technique.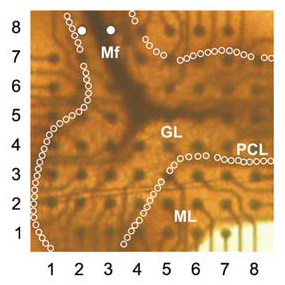 MEA recordings in acute cerebellar slices: parasagittal slice of the cerebellar vermis (thickness, 220m) placed on an MEA. Electrodes are indicated by (x, y) coordinates.
Relevant pubblications:
Jonathan Mapelli, Egidio D'Angelo. (2007) The Spatial Organization of Long-Term Synaptic Plasticity at the Input Stage of Cerebellum. The Journal of Neuroscience, 27, pp. 1285-1296.
Jonathan Mapelli, Daniela Gandolfi, and Egidio D'Angelo. (2010) Combinatorial Responses Controlled by Synaptic Inhibition in the Cerebellum Granular Layer. J Neurophysiol 103: 250 – 261.