<![CDATA[
Egidio D'Angelo – CV (italian version)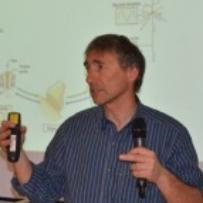 Prof. D'Angelo obtained the degree in Medicine as a fellow of Collegio Ghislieri in Pavia. Then, during his career in electrophysiogical research, he completed an MD in Neurology. His main scientific interests include the function of neurons, synapse and networks of the brain, with a special interest for cellular and synaptic mechanisms of synaptic plasticity.
He is currently:
Full Professor of Physiology at the Dept. of  Brain and Behavioral Sciences of the University of Pavia. – Director of the Neurophysiology Unit
Director of the Brain Connectivity Center (BCC) of the IRCCS C. Mondino of Pavia.
Coordinator of the PhD in Biomedic Sciences of the University of Pavia (dedicate web site DRBS)
Member of the Directory Board of SIF (societa Itlaiana di Fisiologia)
Member of the Scientific Committee of the Centre for Health Technologies of the University of Pavia
Co-director of the Human Brain Project (HBP)
Member of Centro Fermi (Rome)
Director of the Erice School "Brain Cells and Circuits: Camillo Golgi".
Contact:   dangelo@unipv.it